Please note that all photos used on this page are from the Animal Jam Wiki (animaljam.wikia.com) 
Welcome back to Pixel Press. I'm MasterJPixel and today we'll be looking at a topic that a lot of people participate in: Rare Item Monday. Some of them are really cool.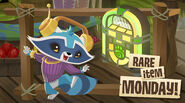 Some of them are not, and just look quite silly on your animal. Today we'll be looking at 10 of the silliest R.I.M. items of all time.
Now before I start I just want to say that this is called "Silliest items." Not "Worst items." This list is not hate speech towards Animal Jam HQ's work. I only made this for fun.
10 – Rare Cone Collar
If I am correct, these cone collars are made for dogs with medical disorders. I'm honestly interested to know who from Animal Jam HQ thought it was a good idea to put it on a horse.
9 – Rare Butterfly Glasses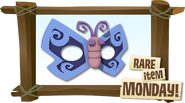 Along with being an extremely silly item, this is also quite disturbing. It looks like someone went outside and caught a butterfly, then cut holes in their wings and wore them as glasses. Yikes.
8 – Rare Flower Glasses
Despite the word "Glasses" is in the name, your animals can't actually see through these.
7 – Rare Ninja Mask
It could just be me, but it's very difficult to roleplay as a stealthy ninja, when you're wearing bright purple.
6 – Rare Army Helmet
Again with the camoflauge and blending in thing. If I were in a war, the last thing I would want to use for stealth is red and white.
5 – Rare Seaweed Boa
Next time you go to the aquarium, ask an employee if you can take some seaweed and wrap it around your neck.
4 – Rare Shutter Shades
The item itself actually looks pretty cool, but it must be very difficult to see with those.
3 – Rare Polka Dot Tuxedo
Wow, that's a long name.
The bow tie and red shirt are okay. The only part I mind is the fact that the jacket is green. AND polka dots? It honestly looks like someone threw up on my tuxedo. Can I get a refund?
2 – Rare Pumpkin Mask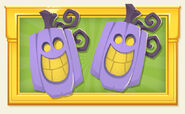 Animal Jam was made for an age range of children about 7 to 10 years of age. I am older than that and the Rare Pumpkin Mask may literally give me nightmares.
1
Oh dear. What could possibly be the silliest item of all the Rare Item Mondays? Well, here it is.
The Rare Ladybug Hat isn't even really a hat, it's just a ladybug. The 450 Gems isn't even really worth it. You can get one of these in real life, too. Just go outside and put a ladybug on your head.
Well, that's the end of the list. I hope you enjoyed, and once again, this list is not hate speech towards Animal Jam HQ's work. This was made for entertainment purposes. I hope all of you have a fantastic day and I will talk to you all later.